• Ornamental Steel Fences 
Commercial Steel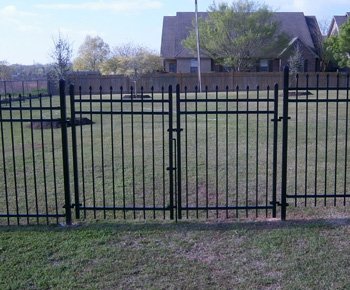 Steel Fencing Gates
Metal in Combination with Chain Link
Ornamental Steel Fencing
Hercules Fence uses steel sections that are bolted together not welded, this is beneficial because the sections can be adjusted and replaced, if that is ever necessary. This process also permits the fencing to be adapted to any terrain.
Our steel fences are electro-coated both inside and outside with four layers of protection. Steel fences can rust, by coating them inside and out, the steel is not exposed to the elements and therefore does not corrode, which results in years of maintenance-free ownership. Steel fencing is available in black and bronze colors.
Steel fences share many of the benefits of wrought iron and aluminum fences without their drawbacks. Steel fences can give you almost the same look as wrought iron and aluminum, but steel is much stronger and more durable and does not dent or collapse easily. Steel can be great for both residential and commercial settings and makes a great security fence for all properties.