Western Red Cedar is the most commonly used wood for backyard fences. 
• Standard Cedar - Semi-private.
• Shadow Box - Alternating boards provide a finished look on both sides.
• Board-on-Board - Full privacy. Overlapping fence boards create maximum privacy. 
Standard Cedar
Shadow Box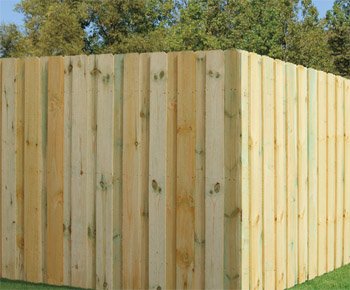 Board-on-Board
Hercules Fence Guarantee
Hercules Fence guarantees every single wood fence we build and install. We have years of experience building some of the most beautiful wood fences in Shreveport. Our wood fences will add an elegant quality to your house and set it apart from all your neighbors. 
We only uses the best non-imported material available.  Many companies try to pass Chinese Cedar (fir) off as real Western Red Cedar to cut costs. Although this wood may look like cedar, it does not have the same quality properties as real cedar.
We use aluminum ring shank nails to prevent rust lines going down your fence. We also use treated 2×4 rails for extra strength. All of our post holes are minimum 6" wide and 30'' deep on our 6' fence and 30''-36" deep on our 8'+ fences. Our brackets are heavy duty WAPO brand and are the best bracket to use unlike other flimsy types. We take pride in our workmanship so we guarantee every fence we build.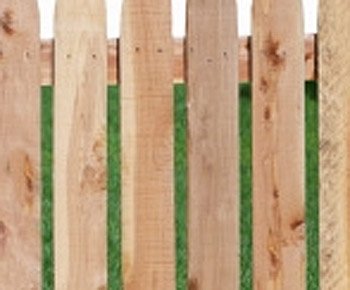 We Give You This
Not This
Benefits of a Privacy Fence
Seculsion – If you have a pool or hot tub, a privacy fence will help you enjoy your backyard without having to worry about who might be watching. Even if you don't have a pool or hot tub, it is relaxing to have a secluded place where you can be alone.
Deterrent – A solid privacy fence raises the difficulty of property entry just enough so that thieves and vandals will probably look for an easier target. It also hides your possessions which may prevent criminals from scoping out your property.
Protection  – A privacy fence helps you keep children and pets safely in your backyard. Privacy fences are typically taller than chain link and are made out of smooth wood, which does not offer paw or handholds like a chain link, this prevent scaling and climbing.
Property Values – When built by a professional, and maintained correctly, a fence will raise the value of your home. Privacy fences tend to raise the value more than other fence types because they are built of quality wood and are tightly constructed to provide an eye-catching, sophisticated look to your home.